La marcha de los 4 días en Nijmegen -The Netherlands
Hoy anoto aquí  la referencia a este Evento -con mayúsculas- ,  que tuve la oportunidad de participar hace bastantes años. Interesante y extraordinario.
Thank you for reading this post, don't forget to subscribe!
Dejo las referencias en este post.
Un poco de Historia (wikipedia)
Nijmegen es la ciudad más antigua de los Países Bajos. Los restos arqueológicos hallados en el lugar indican que ya antes del primer milenio los bátavos estaban instalados allí y, más adelante, los romanos construyeron un asentamiento (con el nombre de Ulpia Noviomagus Batavorum) alrededor del s. II d. C. En el año 2005 se cumplieron 2000 años de su existencia.
Formó parte del Ducado de Güeldres, anexionado en 1543 a los Países Bajos de los Habsburgo. Durante la guerra de los Ochenta Años, fue ocupada por los neerlandeses el 21 de octubre de 1591.
En 1678-1679 se firmaron en ella los Tratados de Nijmegen, que fueron contrarios a los intereses europeos de la España de Carlos II frente a los de Luis XIV de Francia. Durante la Segunda Guerra Mundial, y debido a su emplazamiento estratégico y su cercanía con Alemania, Nijmegen fue la primera ciudad de los Países Bajos en ser invadida por las tropas nazis. Más adelante, las tropas aliadas bombardearon Nijmegen, creyendo que atacaban la ciudad alemana de Cléveris. Gran parte del centro de la ciudad quedó destruido. Fue el centro de la Operación Market Garden, la mayor operación aerotransportada de la guerra.
Nijmegen fue conocida desde la década de 1960 como la ciudad roja y La Habana del Waal. ​
Esta ciudad es conocida entre los neerlandeses fundamentalmente debido a la Vierdaagse, una marcha celebrada anualmente durante cuatro días en la que participan miles de caminantes. La vierdaagse asegura a la ciudad una gran afluencia de turistas y un gran beneficio tanto económico como cultural. Varios edificios destacan por su importancia artística, como por ejemplo la catedral protestante St. Stevenskerk, la Escuela de Latín o el Valkhof (localización que a lo largo de la historia albergó un fuerte bátavo, varias obras de ingeniería romanas y un palacio de Carlomagno).
Saludos
Sobre los 4 días de marcha
" …  In the third week of July, we walk the 4Days Marches together, the world's largest walking achievement event! Over 45,000 participants with more than 70 different nationalities, from as young as 11 to over 90, come to Nijmegen every year to walk 30, 40 or 50 kilometres for four days in this city on the Waal river and its beautiful, wooded surroundings. They all gather with the same objective in mind: being awarded the coveted 4Days Marches Cross. … "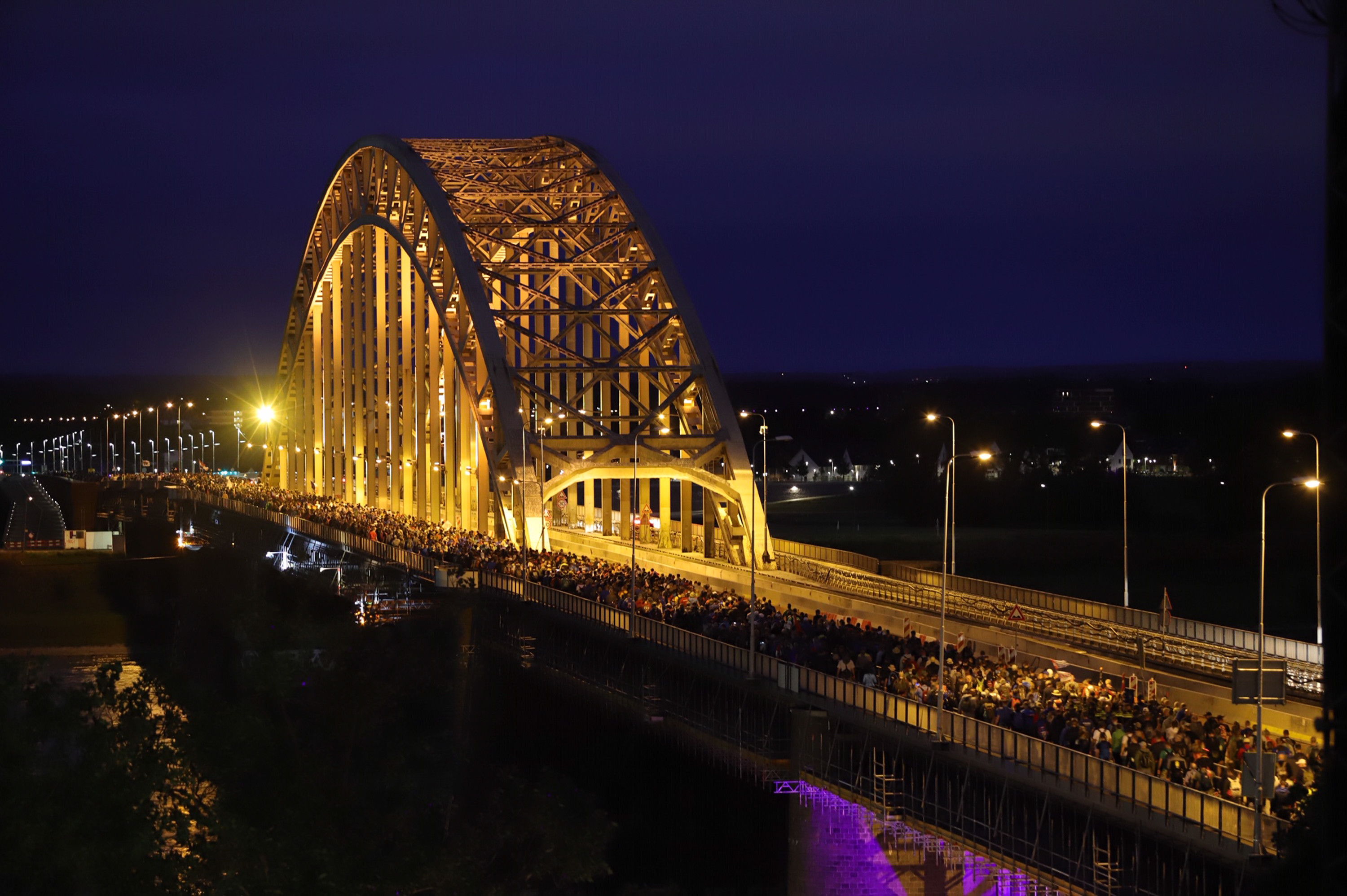 The 4Days Marches | the Walk of the World | 4Daagse
In the third week of July, we walk the 4Days Marches together, the world's largest walking achievement event!
---
We are sorry that this post was not useful for you!
Let us improve this post!
Tell us how we can improve this post?