Thank you for reading this post, don't forget to subscribe!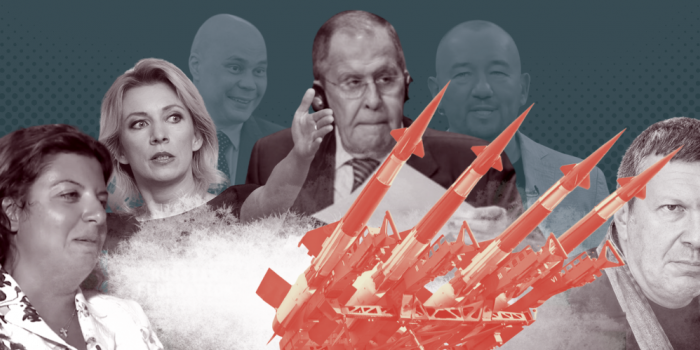 Credit: Institute of Mass Information 
Russia tells Ukraine that it can be successful only with Russia, the West — that it has a right to Ukraine as its sphere of influence, and the Global South — that the West is driven by anti-Russian racism. Here is how Russia propaganda tailors its strategic and tactical narratives to drive up support for its war against Ukraine worldwide.
Although Russia started its unprovoked and unjustified aggression against Ukraine as early as late February 2014, when the Russian troops covertly invaded Crimea, the year 2022 became a watershed in the history of the Russian invasion of Ukraine as it turned truly genocidal. Today, because of these seismic changes in the nature of Russian aggression, more than ever do we need better conceptual tools for analyzing Russian propaganda and disinformation.
In this article, I offer to consider two conceptual tools that can contribute to more efficient identification, categorization, and, ultimately, dealing with messages of Russian propaganda and disinformation.
Differentiate between Russian strategic and tactical narratives
First, when talking about Russia's propaganda and disinformation about the war against Ukraine, I suggest differentiating between strategic and tactical narratives of Russian psychological warfare.
What are strategic narratives?
Strategic narratives reflect the long-term vision of Russian political and kinetic warfare. More often than not, they reflect genuine, deep-seated beliefs of the Russian leadership linked to Ukraine or the broader context of the aggression. Even if directed at different audiences, strategic narratives demonstrate some internal logic and are generally coherent. However, the mere fact that they may be logically coherent does not imply that they are right or correct – it just means that they may be well-structured and elaborate.
What are tactical narratives?
Tactical narratives serve as individual steps that aim to strengthen the validity of strategic narratives. Unlike strategic narratives, however, tactical narratives are less coherent, because they are extremely manipulative and usually appeal to emotions. But for the Kremlin and its propaganda machine, it does not matter if tactical narratives are illogical or contradict each other – as long as they contribute to the force of strategic narratives. And because tactical narratives are often irrational and inconsistent, their lifespan may be quite short or sporadic – they may emerge, disappear, and then re-emerge again.
Differentiate between audiences of Russian messaging
The distinction between strategic and tactical narratives is not the only distinction relevant to our discussion. Moscow directs strategic and tactical narratives at different audiences, and I identify four major audiences of Russian information warfare linked to the aggression against Ukraine.
The Russian domestic audience;
The audience in Ukraine that Russia targets to destroy or undermine Ukraine's will to resist the Russian genocidal invasion;
The audience of the collective West where Russia aims to undermine support for Ukraine;
The audience of the so-called Global South.
The distinction between different audiences helps us understand why some messages of Russian Ukraine-related psychological warfare may work well in one region but be considered strange or even outright ridiculous in another part of the world, as the examples below demonstrate.
This said, the Russian propaganda machine may use one and the same narrative to target not only one but two or three different audiences because it is deemed efficient more or less universally. For example, some narratives are persuasive for the Global South in general and, at the same time, for the regressive Left in the West. Or a particular narrative may be appealing in Russia and among the far-right circles in Europe. And of course, there are sub-sets of the four identified major audiences. For instance, one can distinguish between China and India in the category of the Global South, or between France and Lithuania in the category of the West.
Here, however, in order to show how the two suggested conceptual tools may be used to identify and analyze messages of Russian war-related propaganda and disinformation, I will focus only on strategic and tactical narratives that Russia uses to target the four major audiences mentioned above: Russian population, Ukraine, the West, and the Global South.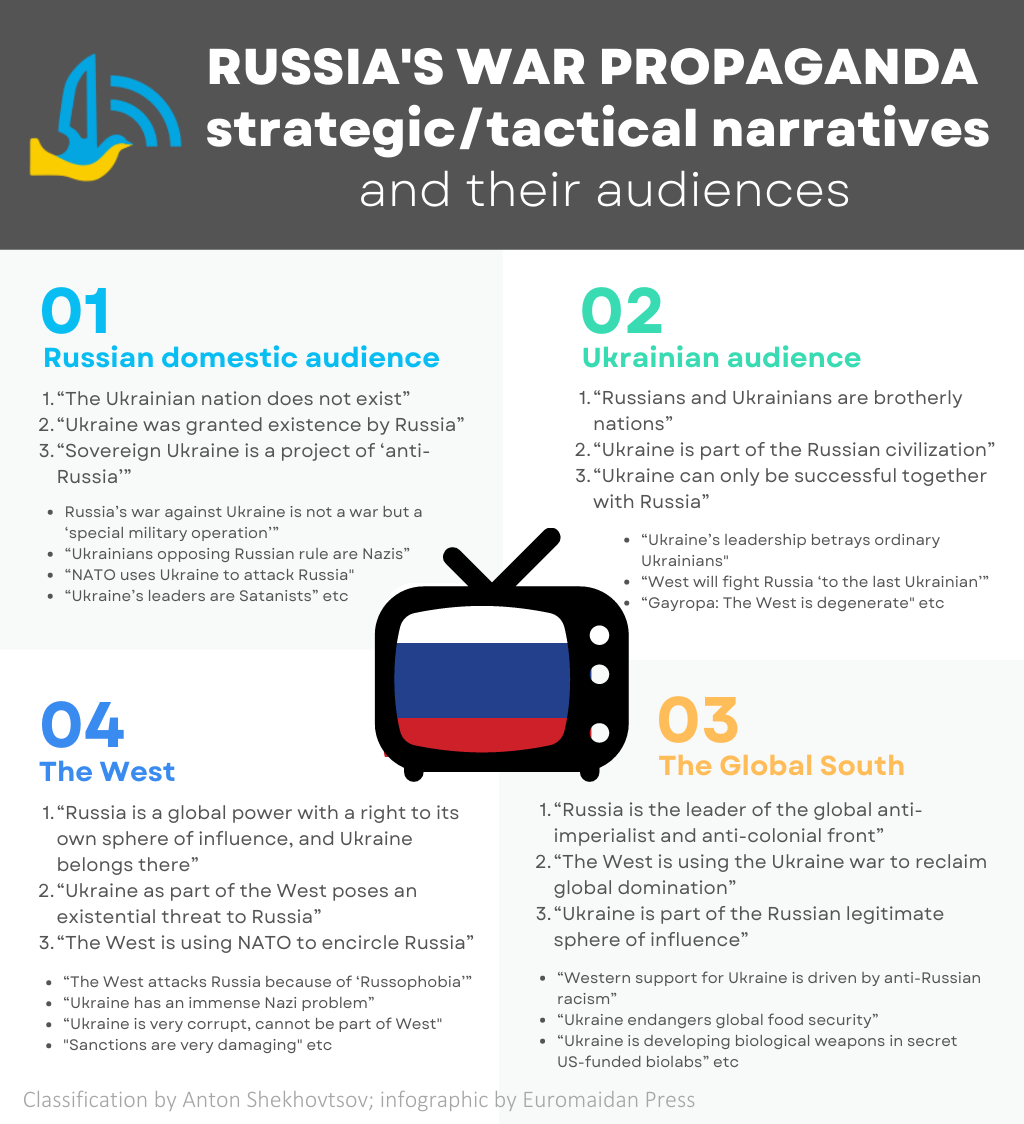 Russian propaganda narratives for the domestic audience in Russia
The Kremlin and the Russian media directly or indirectly controlled by the Putin regime, target the domestic Russian audience with three main strategic narratives:
"The Ukrainian nation does not exist, while so-called 'Ukrainians' are simply confused or manipulated Russians"
"As a country, Ukraine was granted existence by Russia"
"Sovereign Ukraine is a project of 'anti-Russia'"
But there are many more tactical narratives that the Russian leadership uses to support their strategic narratives:
"Russia's war against Ukraine is not a war but a 'special military operation'" (SMO)
"Those Ukrainians who oppose Russian rule are Nazis" ("de-Nazification") of Ukraine as an objective of the SMO
"NATO uses Ukraine to attack Russia," or "Russia fights NATO not Ukraine"
"Russia never lost wars: 'we will necessarily win'"
"Ukraine commits genocide of ethnic Russians in the Donbas and elsewhere in Ukraine"
"Ukraine's territory belongs to Russia: 'we do not occupy Ukrainian lands – we return to Russia what is rightfully ours'"
"Ukraine's leaders are Satanists"
As can be assumed, some of these narratives can be found outside of Russia too.
For example, by calling Ukrainians "Nazis," Russia tries to dehumanize Ukrainians so Russian invaders are able to carry out their genocide of Ukrainians with less psychological distress. But the same message about Nazis is used in the West to trigger anti-right-wing sentiments and decrease support for Ukraine.
However, some messages will only work in Russia.
For example, perhaps the most peculiar of these, that Ukraine's leaders are Satanists, is not only a tactical message with a short lifespan but was also tailored for the Russian audience only. It was created after an incident in Russia involving Muslim recruits killing several Russian soldiers after their commander allegedly insulted their Muslim faith. Moscow needed to avoid interreligious conflicts among the invaders, so it came up with this strange idea that would present Ukrainians as enemies of all believers, no matter what religion they adhere to.
Some of the tactical messages remarkably reveal the pervasive superiority/inferiority complex of many Russians. As they consider the Ukrainians inferior to them, they fail to cope with the military successes of the Ukrainian army on the battlefield, so their defense mechanism is to imagine that they are fighting with mighty NATO rather than with Ukrainians.
Russian propaganda narratives for the Ukrainian audience
With the Ukrainian audience, the main strategic narratives are as follows:
"Russians and Ukrainians are brotherly nations"
"Ukraine is part of the Russian civilization"
"Ukraine can only be successful together with Russia"
And then there are tactical narratives targeting Ukraine:
"Ukraine's leadership betrays the interests of the ordinary Ukrainian people"
"The West will fight Russia 'to the last Ukrainian'"
"Gayropa: The West is degenerate and Ukraine should not join it"
One can easily notice that strategic and tactical narratives targeting the Ukrainian audience are less aggressive towards Ukraine in comparison to those directed as the Russian domestic audience. This can be explained by the different objectives that the Kremlin has in its own country and in Ukraine. In Russia, the Kremlin tries to justify its anti-Ukrainian genocidal intentions and occupation plans, while, in Ukraine, it aims not only to break the fighting spirit of the Ukrainian society but also to pacify the Ukrainian population on the territories occupied by the Russian invaders.
Russian propaganda narratives targeting the West
For the Western audience, Russia has the following major strategic narratives:
"Russia is a global power that has a right to have its own sphere of influence, and Ukraine belongs there"
"Ukraine as part of the West poses an existential threat to Russia"
"The West is using NATO to encircle Russia"
And many more tactical narratives:
"The West attacks Russia because of inherent Western 'Russophobia'"
"Ukraine is run by Nazis or, at the very least, has an immense Nazi problem"
"Western sanctions are damaging for European businesses and households"
"Ukraine is one of the most corrupt countries in the world – it cannot be part of the West"
"Russians and Ukrainians are one people"
"Russia is interested in peace negotiations but Ukraine and the West are not interested in peace"
"European support for Ukraine will result in the geopolitical decline of Europe"
"The US uses the Ukraine war to cement its position as the dominant power"
"Western weapons given to Ukraine will end up with international terrorists"
"Nuclear threat: the West should not oppose Russia because it has nuclear weapons; or is making a 'dirty bomb'"
Especially with these tactical messages, one can see how the Kremlin and the Russian-controlled media aim to exploit sensitivities and anxieties of Western nations related to right-wing ideologies, nuclear non-proliferation, West European anti-American sentiments, and American self-hatred, international terrorism, corruption, and other phenomena.
Russian propaganda targeting the Global South
Finally, the Kremlin is pushing three strategic narratives for the Global South:
"Russia is the leader of the global anti-imperialist and anti-colonial front"
"The West is using the Ukraine war to reclaim global domination"
"Ukraine is part of the Russian legitimate sphere of influence"
It is not very difficult to imagine that the second and third strategic messages directed at the Global South may well work with some left-wing and right-wing isolationists, populists, and anti-globalists in the West. The first strategic narrative, however, the one about Russia as the leader of the anti-imperialist front, is likely to work only with some authoritarian leftists, also known as "tankies."
Russian tactical narratives targeting the Global South are curious in that they are focusing predominantly on the West, rather than Ukraine, because for many in the Global South, especially in Africa, Latin America, and Southern and Western Asia, there is little difference in perceptions of Russia and Ukraine. In the Kremlin's messaging for the Global South, Ukraine is bad not because it is presumably anti-Russian, but because of its ties to the often-demonised Western world:
"Western support for Ukraine is driven by anti-Russian racism"
"Ukraine, with Western support, endangers global food security"
"Ukraine is developing biological weapons in secret US-funded biolabs"
Again, the best way to target particular regional audiences is to exploit their major sensitivities and anxieties. For the Global South, these are racial inequality, food security, and pandemics. In the West, in Ukraine, we may find some of these narratives surreal or even ridiculous, such as, for example, the claim that the US has trained an army of migratory birds to carry biological weapons developed by the Ukrainian army. However, narratives such as this one are simply not directed at us; they are targeting the Global South, where conspiracy theories about Western plots to cull certain populations are especially widespread. But it is perhaps not surprising that conspiracy theories about secret American biolabs in Ukraine are also popular with QAnon followers and other far-right online and offline activists in the West and, especially, in the US with its rich conspiracy theory culture.
Assessing the Kremlin's success from a personal perspective
This will perhaps be an understatement to say that it is extremely difficult to assess the efficiency of Russia's strategic and tactical narratives related to its aggression against Ukraine among different audiences. Nevertheless, in conclusion, I invite readers to look at this issue through the lens of their personal experiences.
If you – before reading this article – had heard all or most of the narratives discussed above and directed at the audience you belong to, then it is fair to say that Russia was successful in delivering these messages to you personally. Directly, if you knowingly or unknowingly consumed Kremlin-sponsored propaganda and disinformation products. Or indirectly, if you heard these narratives from a friend or any other of your contacts.
But this is only one-third of the Kremlin's success. Yet another one-third is if you consider any of these narratives as a legitimate point of view on the developments in and around Ukraine. And the Kremlin's particular psychological operation is a complete success if you have been convinced that a specific narrative is not only a legitimate take on the Russian aggression against Ukraine, but is actually true or correct.
Related:
---
We are sorry that this post was not useful for you!
Let us improve this post!
Tell us how we can improve this post?